Biofinity® toric multifocal
CooperVision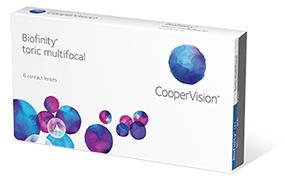 Biofinity toric multifocal lenses from CooperVision combine the comfort, proven optical designs and trusted technology of Biofinity toric and Biofinity multifocal lenses to help you fit a wide range of patients. CooperVision® Biofinity® toric multifocal contact lenses combine proven lens design technologies to keep patients' vision crisp and clear at every distance, every day. Like all Biofinity® family lenses, they provide 100% of the oxygen your patients eyes need to help them stay healthy, and give their eyes the natural wettability and comfort needed to keep their life in focus.
Product Benefits
Optimized Toric Lens Geometry®
Balanced Progressive™ Technology
Aquaform® Technology
All Biofinity contact lenses provide a remarkable balance of comfort, breathability and excellent visual performance.
Lens Material
comfilcon A
Lens Wearing Schedule
Daily Wear + up to 6 nights extended wear