Avaira Vitality™ toric
CooperVision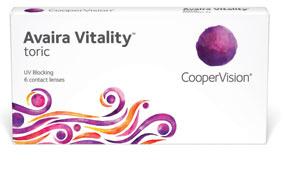 With its convenient 2-week replacement schedule and soft, flexible material, superior Avaira Vitality™ toric can be a great fit for a wide range of patients. Avaira Vitality™ toric offers all the great benefits of Avaira® and more with superior long-lasting comfort, and vision quality, plus higher water content and Class 1 UV protection.
The 3rd generation of silicone hydrogel material used in Avaira Vitality™ toric is inherently wettable with no surface treatments. This, combined with the higher water content of Avaira Vitality™ toric ensures a high performing, comfortable lens.
Avaira Vitality™ toric offers everything you love about Avaira®. Which means they also have excellent fitting characteristics, so refitting Avaira® patients is simply effortless with no additional chair time.
Product Benefits
Natural wettability for long-lasting comfort
Silicone hydrogel material
Low modulus, high Dk for a variety of needs
Improved protection with a Class 1 UV filter
Enhanced with higher water content
Same affordable price as other Avaira® products
Aberration Neutralizing System™
Lens Material
fanfilcon A
Lens Wearing Schedule
Daily Wear, 2 week replacement