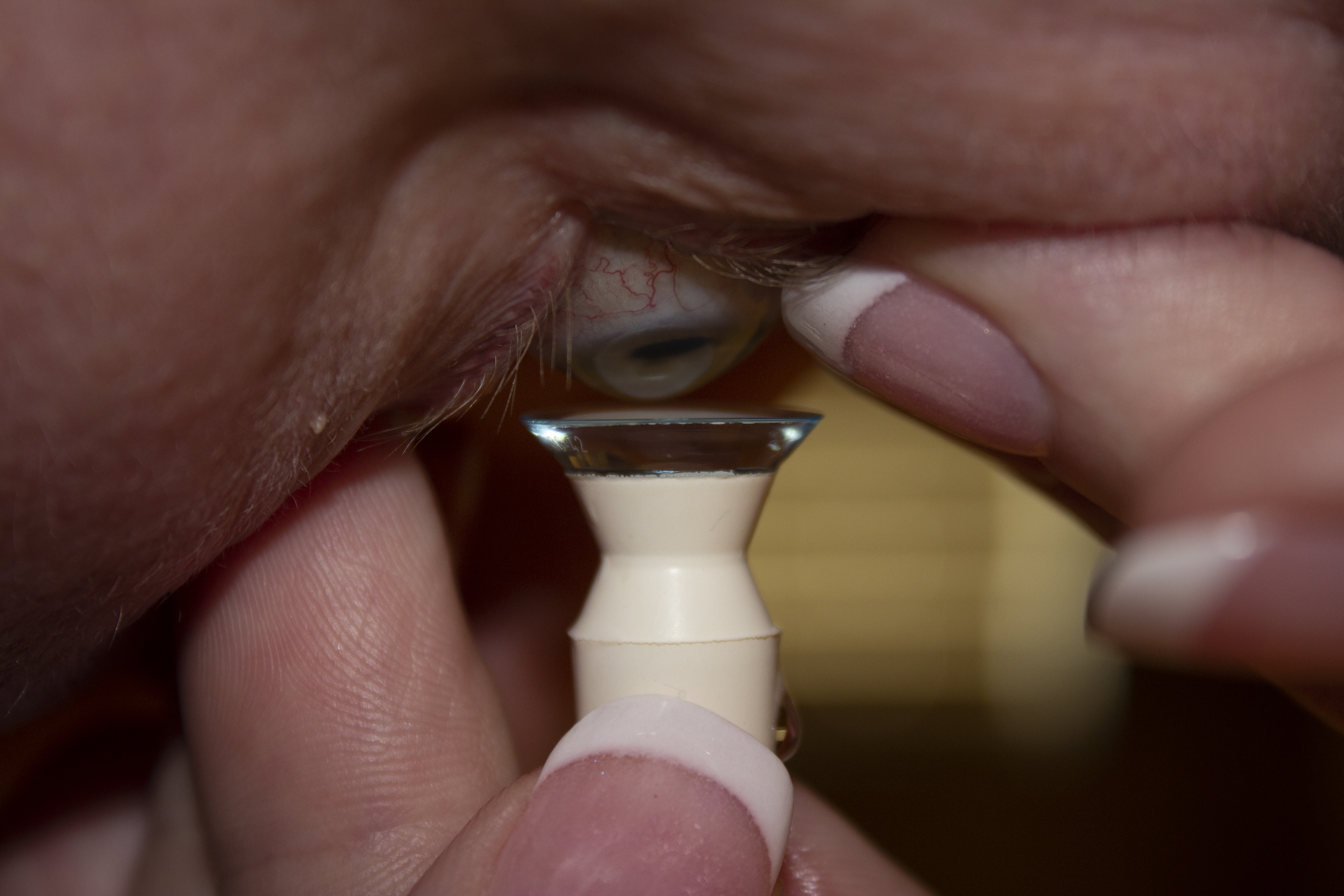 Build Your Scleral Practice Through the 4 Steps of Efficient Fitting
Minimizing chair time, while still achieving positive patient outcomes is a goal for any eye care practice. Let's look at a few steps that can make your scleral patient fitting process efficient while achieve success in a minimum of office visits.
Patient Identification and Acquisition of Ocular Parameters
Primarily, scleral lenses are indicated for patients with some level of irregular astigmatism secondary to conditions such as Keratoconus and Pellucid Marginal Degeneration or after surgeries like Corneal Transplant, Radial Keratectomy (RK), LASIK/PRK and intracorneal ring segments.

Also, they provide surface protection in Ocular Surface Disease or after some surgeries. To a lesser degree they can be useful in high refractive errors, aphakia or as a prosthetic.

Regardless of the ocular condition, the fitting process is straightforward. After the proper patient identification, the next step is to acquire ocular surface measurements to aid in choosing the initial diagnostic lens. Keratometry readings alone are not particularly useful, especially in the presence of irregular astigmatism. Notation of corneal size will also be helpful. Corneal topography or tomography are more helpful, with corneal-scleral topography even more beneficial.
Initial Lens Selection
There are various methods for determining the initial diagnostic lens. One is based upon the corneal HVID. Typically, smaller horizontal visible iris diameter and normal corneal shapes equates to smaller diameter lenses, for instance 14.6-15.0mm. Alternatively, larger diameter sclerals 16.3-16.5mm are indicated for highly irregular corneas or patients with a large HVID. Or one can measure the HVID and add 3.5-4.0mm to determine the exact size of the lens as indicated in figure 1.

Another method is by condition. In this situation, the ECP chooses a diagnostic lens of a specific sagittal depth based upon the depth of the eye. A normal depth eye would dictate a 4000µm lens, median depth eyes such as in early/moderate keratoconus would be about 4400µm Dx lens while advanced keratoconus or high-depth post-transplant eyes would start with a 4800µm design.

Additionally, in cases where there are not reliable measurements available, one might simply choose the middle lens in a diagnostic set as a starting point.

Refer to your specific lens design's diagnostic set instructions for recommendations on which method is best indicated.
Evaluation Procedures
Before applying the diagnostic lens to the eye, most ECPs that are new to scleral lenses will place fluorescein in the non-preserved saline solution that fills the lens bowl, although with experience some opt for this step without fluorescein.

After application of the initial diagnostic lens by either a staff member or yourself, take a quick look to ensure there aren't any insertion bubbles

If not, allow the lens to "settle" on the eye for approximately 20 minutes before the slit lamp evaluation.

Here's the efficient steps for fit analysis.

Take a gross look at the lens fit with diffuse slit lamp illumination (figure 2) to analyze overall clearances.

Change to optic section illumination to estmate clearances centrally and in the mid-periphery. Compare the tear film thickness with that of the lens center thickness (CT), which is usually about 300µm as a point of reference.
Look at the edge relationship as well noting any impingement of edge-lift. The Michigan College of Optometry has developed the Scleral Lens Fitting Card (figures 3,4) to help you learn what different vaults look like at different point of the lens.


Over-refract diagnostic lens to determine lens power.

Place lens order with Scleral Lens Consultant at ABB Optical Group
Note the diagnostic lens specifications, the sphero-cylinder over refraction, clearances across the lens surface, and edge to ocular surface relationship. Communicate these to the laboratory and your patient and you will be on the path to a successful scleral lens outcome.
Contact ABB Specialty Vision Products at lunchandlearn@abboptical.com for additional information regarding staff training webinars and training opportunities.