ABB Optical Group Announces the 9th Annual Optometry Student Challenge
Third and fourth-year students are invited to compete for a chance to win a $1,500 travel grant to the 2024 Global Specialty Lens Symposium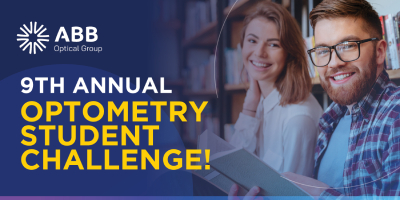 Coral Springs, FL – May 1, 2023: ABB Optical Group is excited to announce the company's 9th Annual Optometry Student Challenge is now open for registration. Third and fourth-year optometry students are invited to submit an abstract on a student-based case report or research study project for a chance to win a travel grant to attend the 2024 Global Specialty Lens Symposium.
ABB will hold a live webinar in November in which the top six student challenge finalists will present their posters. Attendees will have the opportunity to vote on their favorite poster presentation and scores will be incorporated in the overall judging of the winners. Last year, more than 300 attendees participated in the webinar and supported challenge finalists during their live virtual poster presentations.
"The Optometry Student Challenge provides an exciting platform for optometry students to showcase their knowledge and skillset. We love seeing their passion for eyecare and creativity come alive during the challenge," said Dede Reyes, Manager of Consultation & Education, Specialty Contact Lens.
Tom Burke, ABB Chief Executive Officer added, "Being able to provide a means for future optometry professionals to network with thought leaders in the industry is such an important steppingstone for their careers. We always walk away from this event feeling energized and hopeful for the future of optometry."
To get started optometry students can visit https://abboptical.com/OptometryStudentChallenge and must register by August 31, 2023. Topics are restricted to Contact Lenses and may include (but not limited to) contact lens applications for presbyopia, keratoconus, corneal topography, post penetrating keratoplasty or related irregular corneal surface, myopia control, lens care/solutions, custom soft lenses, ortho-k instrumentation for measurement of the ocular surface and sports/performance vision. Project abstracts must be submitted by October 13, 2023. Based on the judge's decision, 6 abstracts will be selected, and all finalists will be notified by October 23, 2023. The 6 finalists will be presenting their posters live via a virtual meeting on November 29, 2023. Results of this competition will be communicated with the winners and runners-up by December 1, 2023.
---
About ABB Optical Group
ABB Optical Group is a leading provider of optical products, services, and business solutions in the eye care industry. ABB operates through three business pillars: ABB Contact Lens, ABB Labs and ABB Business Solutions. ABB is focused on the future of eye care professionals, helping them succeed by making practices more efficient and assisting providers to effectively navigate market changes. Visit abboptical.com for more information.
Media Contacts:
For further media inquiries, please contact Sharon Martin at smartin@abboptical.com.