ABB Optical Group and Paragon Vision Sciences Announce Winners of Optometry Student Challenge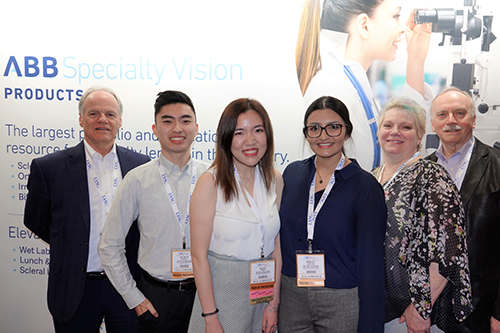 Pictured from left to right: Andy Jackson, Director, Specialty Vision Products; Elton Wong-SUNY; Suzy Chen-SUNY; Preet Dhami-MCPHS; Dede Reyes, Consultant, Specialty Vision Products; Arch Holcumb, M.Sc Consultant, Specialty Vision Products
Coral Springs, Fla. (January 27, 2020) – Three optometry students presented scientific posters at the 2020 Global Specialty Lens Symposium in Las Vegas as winners of the Optometry Student Challenge, a program designed by ABB Optical Group, in collaboration with Paragon Vision Sciences, to foster the study of contact lenses.
The lead authors of the scientific posters were Shuyi (Suzy) Chen, of the State University from the New York (SUNY) College of Optometry in New York; Preet Dhami, from the Massachusetts College of Pharmacy and Health Sciences (MCPHS) School of Optometry in Boston; and Elton Wong, also from SUNY College of Optometry.
More than 86 optometry students submitted contact lens related abstracts focused on study projects or student-based case histories for the chance to win a travel stipend of $1,500 to attend the symposium and convert their abstracts into scientific posters. The challenge, which is hosted yearly, is open to students in their third and fourth years of study. Abstracts are judged on academic merit by a panel of industry experts.
"Each year the Optometry Student Challenge is hosted, the submissions from these intelligent, motivated and passionate future optometrists continue to impress everyone involved in the program," said ABB Optical Group's Director of Specialty Vision Products, Andy Jackson. "The challenge allows students to share their passion for their chosen career, build relationships within the optometry community and set themselves up for success upon graduation. Anyone considering registering for the 2020 challenge shouldn't hesitate, especially those with interest in building a specialty lens practice."
Optometry Student Challenge Winners
Chen concentrated on the use of orthokeratology to treat myopia regression after small-incision lenticule extraction (SMILE) surgery.
Dhami focused his poster on the use of scleral notch to maximize coverage of the ocular surface in patients with exposure keratoconjunctivitis.
Wong presented his poster on selecting the best lens out of four for the treatment of epithelial basement membrane dystrophy (EBMD) plus irregular corneal astigmatism.
"The optical industry of tomorrow will be shaped by the bright, intelligent optometry students of today," said Paragon Vision Sciences President Rich Jeffries. "We're proud of our winners and all of the 2019 student challenge participants, and we look forward to hosting the 2020 challenge later this year."
For more information and to view the winning poster presentations, visit ABBOptical.com/OptometryStudentChallenge.
---
About ABB Optical Group
ABB Optical Group is a leading provider of optical products, services and business solutions in the eye care industry. ABB operates through three business pillars: ABB Contact Lens, ABB Labs and ABB Business Solutions. ABB is focused on the future of eye care professionals, helping them succeed by making practices more efficient and assisting providers to effectively navigate market changes. Visit abboptical.com for more information.
Media Contacts:
Cristina Llorens, 800-852-8089, ext. 7383 cllorens@abboptical.com