ABB OPTICAL GROUP EXPANDS CHARITABLE GIVING PROGRAM, DONATES $22K TO AMERICAN RED CROSS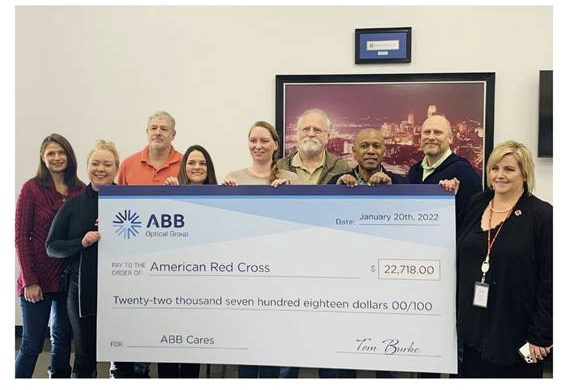 Coral Springs, Fla (January 25, 2022) – ABB Optical Group, one of America's leading independent distributors of optical products and business solutions, recently announced it has expanded its charitable giving program in 2022.
Since the program's inception in 2014, ABB has donated more than $70,000 in grants to non-profit organizations in the U.S.
The initial ABB Cares program was designed to award grants to non-profit organizations across the country. In 2022, the once-a-year program will expand to four fundraising events and two giveback programs throughout the year at all five of ABB's locations nationwide. The program will also provide employees with paid time off so they can volunteer and give back to their community.
"Expanding the ABB Cares program is important to us because it means we get to help more people in need," said Tom Burke, CEO of ABB Optical Group. "We are proud of our employees' generosity and how they've been engaging with their communities."
After tornadoes that swept across major parts of the U.S. at the end of 2021, ABB knew what its first giving opportunity of the new year would be. Through a company-wide raffle, close to 500 ABB employees donated $11,359. ABB provided a dollar-for-dollar match, resulting in a $22,718 donation to the American Red Cross.
"Several years ago, when we built this Kentucky facility, we did so with the understanding that we would become a productive part of this community. When we saw the devastation, destruction, and human suffering brought on by the tornadoes that swept through Kentucky, we were heartbroken and knew we had to help" stated Vince Monaghan, VP of Lab Operations
"We're grateful for ABB Optical Group's generous gift to American Red Cross Disaster Relief following December's devastating tornadoes in the South and Midwest. It's the commitment of donors like ABB Optical Group that helps the Red Cross deliver relief and hope in the aftermath of this, and other life-altering disasters," said Stephanie Byrd, Regional Chief Executive Officer for the Central & Southern Ohio Region.
Since the program's inception in 2014, ABB Cares has awarded more than $83,000 in grants to non-profit organizations across the country.
To learn more about ABB Cares and the program's expansion, visit abboptical.com/ABBCares.
---
About ABB Optical Group
ABB Optical Group is a leading provider of optical products, services and business solutions in the eye care industry. ABB operates through three business pillars: ABB Contact Lens, ABB Labs and ABB Business Solutions. ABB is focused on the future of eye care professionals, helping them succeed by making practices more efficient and assisting providers to effectively navigate market changes. Visit abboptical.com for more information.
Media Contacts:
For further media inquiries, please contact Caitlin Phillips at caitlin@origobranding.com.