EyecareLive's patient-friendly app allows for easy appointment scheduling, video conferencing, messaging and allows for a variety of patient reminders and notifications. The platform also provides patients the ability to take app-facilitated tests for visual acuity, dry eye, contact lens comfort and macular degeneration. Telemedicine complements the role of the optometrist, and does not replace the need for comprehensive eye exams to provide the best care for patients' eye health and safety.
Book a DemoSign Up – 60 Days No CostAn Inside Look - Webinar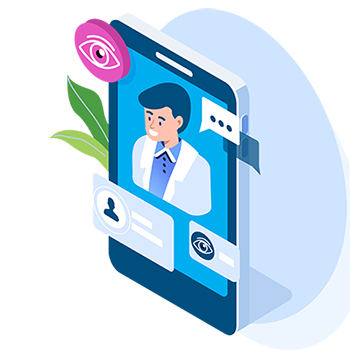 ---
Embracing Technology to Expand Patients' Access to Care
See more patients without seeing more patients.
GREATER FLEXIBILITY – conduct virtual visits from anywhere in the world at times that are convenient for you.
AFTER HOURS TRIAGE – help your patients make the best decision regarding their afterhours urgent care.
SAVE TIME – go from one virtual visit to the next with handy features that help you be more efficient.
GENERATE REVENUE – eye care specific tools such as the visual acuity test allow you to bill at higher rates.
Connect to Patients with Ease
Identify Need for Further Care
Increase Practice Revenue
Sign Up Now – 60 Days at No Cost
Book a Demo
Let us be your partner in ensuring the success of your practice. Contact your ABB Account Manager or an ABB Labs representative today.