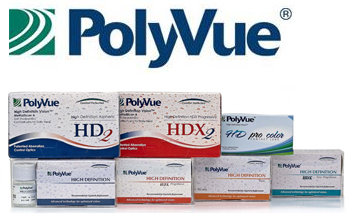 High Definition Vision
Never before have the benefits of aberration reducing geometry and improved reading magnification been incorporated into a High Definition soft multifocal design.
We all now know the benefits of aberration control technology in single vision lenses. Better distance vision, better management of astigmatism and better range of accommodation are among the key benefits. For the first time, these benefits are incorporated into a unique, soft, multifocal lens design – the PolyVue HDX Progressive family of contact lenses.
All contact lenses lack the natural magnification that spectacles provide. The PolyVue HDX Series Progressives uses a unique non-linear "plus" geometry to improve near magnification for more comfortable reading. PolyVue HDX Progressive is the only multifocal available that provides the benefits of aberration control combined with improved reading magnification. An experienced multifocal fitter can expect significant improvements in fitting success using the PolyVue HDX Progressive soft lens. Learn More