ABB OPTICAL GROUP REBRANDS CONCISE CUSTOM SOFT CONTACT LENSES IN RESPONSE TO MARKET GROWTH
Coral Springs, FL – May 9, 2022: ABB Optical Group, America's leading independent eye care company, has unveiled a comprehensive rebranding of CONCISE Custom Soft contact lenses. In response to the custom soft category growth, the complete product line redesign incorporates key brand elements of the company and reflects its leadership position as an innovative business partner to eye care professionals nationwide. The initial rebranding roll-out includes many new visual assets such as a modern logo with a distinct brand icon, a unique product tagline, patient-friendly product packaging, along with an array of valuable practice support tools and educational resources.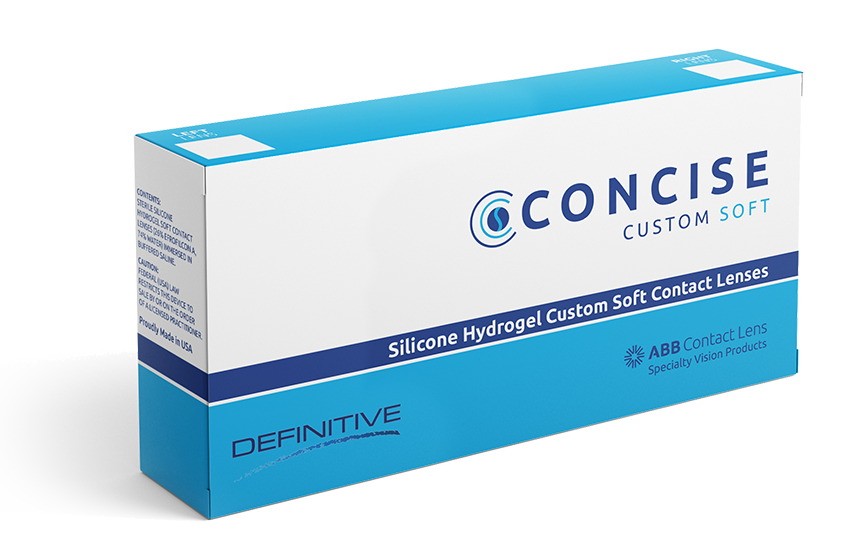 "We are excited to offer CONCISE Custom Soft lenses with a new brand look and new custom tools that will help eye care professionals to grow their custom soft specialty practice with ease and convenience for patient success. Our new online lens design calculator integrates Sag height measurement for optimal customization at your fingertips in creating a CONCISE Custom Soft lens designed uniquely for each patient's eyes," said Andy Jackson, Director ABB Contact Lens, Specialty Vision Products.
Made-to-order CONCISE Custom Soft lenses can be customized with any power, diameter, base curve, cylinder, axis, and optic zone to provide a perfect fit - made only for the patient's eyes. The lenses are precisely constructed in the practitioner's choice of Silicone Hydrogel or HEMA material. Lens orders are quickly shipped direct to the practice or directly to the patient and have a no-risk warranty.
As experienced, "If I need MTO (made to order) lenses, CONCISE Custom Soft is a great option. The lenses ship out quickly and provide better vision and comfort to my patients. No more compromising," said Dr. David Vinci, Eyecare Center of Rome, New York.
Learn more about why CONCISE Custom Soft contact lenses are 'Uniquely Designed. Consistently Clear. Always Concise' by visiting: https://info.abboptical.com/concise-custom-soft.
---
About ABB Optical Group
ABB Optical Group is a leading provider of optical products, services and business solutions in the eye care industry. ABB operates through three business pillars: ABB Contact Lens, ABB Labs and ABB Business Solutions. ABB is focused on the future of eye care professionals, helping them succeed by making practices more efficient and assisting providers to effectively navigate market changes. Visit www.abboptical.com for more information.
Media Contacts:
For further media inquiries, please contact Sharon Martin at smartin@abboptical.com.