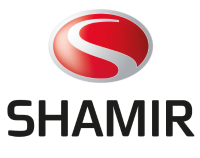 Shamir is a technological innovator in the field of optics. Its Freeform expertise and breakthrough lens design technologies make it a globally recognized leader in sports and occupational lenses, and custom designed lenses that ensure wearer comfort together with optimized visual acuity for virtually any prescription, in any shape frame. Shamir aims to be the premium progressive lens designer by ReCreating Perfect Vision™ with the most advanced technological lens solutions available to the optical industry.
Autograph III® PAL
Eyepoint Technology III- New design concept which uses intelliCorridor to provide a unique power profile for clear vision in the transitional zone in hyperopic & myopic patients.
Autograph II® PAL
Fully Compensated PAL-Off the rack or tailor made? Using patented Eye–Point Technology™, each Shamir Autograph II® PAL is personalized for each of your patients.
InTouch™ PAL
Visual Comfort for the "Handheld Zone"- Designed as an everyday progressive lens solution with enhanced visual comfort in the zone most utilized for handheld technology, patients will notice a quicker transition of add power in the intermediate zone.
Spectrum™ PAL
Non Compensated Superior Design- Incorporates a wider reading area and corridor width to provide more comfortable vision zones for patients. The improved design ensures increased power stability in the far vision zone.
Element™ PAL
Basic Digital General Purpose PAL- Shamir's latest freeform PAL. This 100% customized back surface design offers unsurpassed clarity in all viewing zones.
Attitude III® Fashion
Progressive Sun Lenses for Day-to-Day Outdoor Use- Balanced far, intermediate and near vision for any day-to-day outdoor use. Intermediate zone enhanced for smartphone and tablet use.
Attitude III® Sport
Progressive Sun Lenses for Sports and Active Lifestyles- Widest far vision zone, providing stable vision below the fitting point with an enlarged intermediate zone and optimized Safety Zone.
Autograph II® Attitude™ PAL
Optimized for Higher Base Curves- The first digitally processed Freeform® PAL designed specifically for the unique requirements of high base curve lenses. The ultimate lens solution for sport and fashion wraps. Available : 6 base, 7 base or 8 base.
FIRST PAL™
Targeting First Time PAL Users- This soft design will help a new PAL wearer get used to the changes in magnification of a no line bifocal. It can be used as a "training lens" that helps new PAL wearers adapt to their firstPAL.
Computer™
An Advanced Freeform Lens- Excellent vision for close up tasks with a range of up to 5 feet.
Workspace™
Occupational Lens- Excellent vision for close to mid-range to an optimal depth of field up to 10 feet.
Autograph II® Office™
Occupational Computer Lens- With a variable dynamic power range, the Autograph® II OfficeTM is the most sophisticated and easy to fit office PAL available.
GOLF™ SV/PAL
Golf Specific Lens- This lens is designed to offer great visual performance when playing Golf. The distinguishing attribute of these lenses is to provide great vision while looking down at the golf ball.
RELAX™
Relieves Vision Strain- Single Vision fatigue relief lens that relieves strain on the eye muscles.
Autograph III® SV
Eyepoint Technology III- The ultimate single vision solution for the most personalized, cutting-edge experience. Optimized for myopes and hyperopes to ensure precise optics and a wider field of vision.
Autograph II® SV
"As Worn" Power Single Vision- Shamir's most sophisticated Single Vision lens. "As Worn" Rx created to provide superior Optics.
Attitude III® SV
Sun Lenses for any Outdoor Activity- Optimal design for any frame size, shape and tilt. Unique lens design for large frames with expanded Peripheral Vision.
Autograph II® Attitude™ SV
Optimized for Higher Base Curves- Digitally processed Freeform® Single Vision lenses designed for high base lenses. This lens provides superior optics for those patients requiring a 6 base, 7 base or 8 base lens to fit a sport/fashion wrap frame.
Duo™
A New Generation of Freeform® Bifocal Lenses- An advanced Freeform® lens, offers surface continuity, eliminating the visible line and optical continuity, eliminating the image jump and loss of image.
Spectrum™ SV
Digitally Fabricated Single Vision- A Single Vision lens that offers more precise optics through the fabrication of aspheric/atoric back surfaces.
Spectrum+™
Everyday Lens Enhanced for Comfortable Reading– Features a wider reading area and corridor, when compared to standard progressive lenses to provide patients with more comfortable visual zones. The near visual zone is dynamically located within the lens corridor, taking into account the plus or minus of the prescription.
Autograph Intelligence™
The most innovative and intelligent design to date, utilizing 12 unique design concepts to fit the visual needs required for each Visual Age™. It closes the gap between visual needs that presbyopes of all ages want and require. This revolutionary progressive design concept has been tailored based on in-depth research and is relevant to the visual needs of young, mid, and advanced presbyopes.
---
Shamir Coatings

Glacier PLUS™UV
In today's social world, it's important to keep your eyes and your lenses looking good and well protected. Utilizing the most advanced technologies, Shamir Glacier PLUS UV ensures you receive the most enhanced performance from your lenses. Glacier PLUS UV diminishes issues for patients; dramatically reducing glare providing a crisp, clear visual experience with a super slippery hydro/oleophobic surface which requires less cleaning. Glacier PLUS UV is a new coating that provides a cutting edge, glare-reducing solution and truly helps to ReCreate Perfect Vision.